Moving home is an exciting time, but it certainly doesn't come without stress. In fact, when executed poorly, and without the appropriate planning, it can soon turn into a disaster. Fortunately, there are professional removals companies in Sutherland Shire that can help you with every step of the process. That way, you can simply kick back and enjoy the move as best you can, while focusing on the future.
In this article, we're going to look at the benefits of working with a Sutherland Shire removalist when moving home.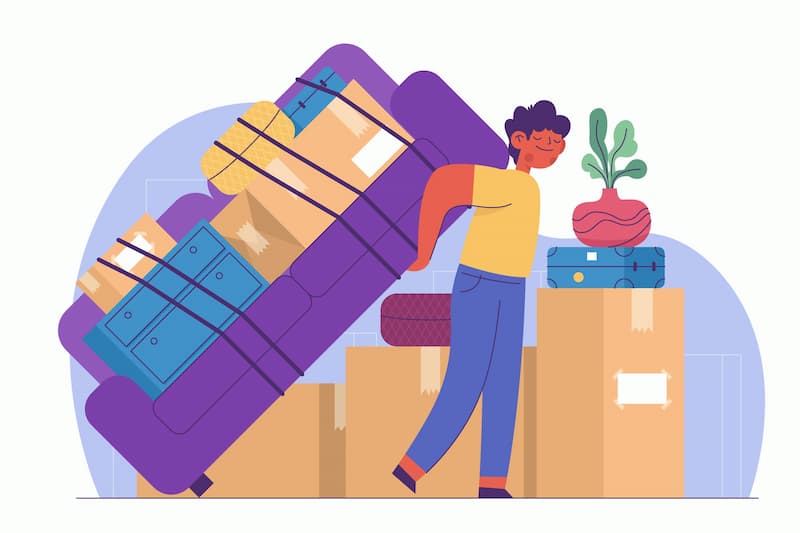 The benefits of choosing a professional removals company in Sutherland Shire
1 – Proper packing
The thought of having to pack up your entire home and possessions into boxes is a daunting prospect. However, with the right removals company in Sydney, you can leave all of this to the professionals.
While you may prefer to pack all of your possessions yourself for privacy reasons, if you are too busy or simply do not want to waste time on packing, leveraging an expert packing service has many benefits.
The main benefit of course, is proper packing. Certainly, putting items into a cardboard box and taping it up doesn't exactly sound like the most complicated of tasks, however, thinking about the weight and fragility of every single item in your home is a headache you could likely do without.
Instead, you can allow the professionals to pack everything in your home appropriately and with the finest packing materials to ensure the safe and efficient transit of your possessions.
2 – Save time
Hiring the professionals to help you out with the moving process can save you an awful lot of time. Rather than having to arrange transport yourself, pack up all of your belongings, and then load and unload everything, you can instead leave it to the professionals to take care of it all on your behalf.
This can save you an awful lot of time to focus on other aspects of the move that are more important (e.g., ensuring that the utilities in your new home are ready for your arrival, or exploring the best schools in Sutherland Shire for your children).
3 – Fewer overall costs
Not only can hiring a professional removals company in Sydney help you save time, but money too. You might think that handling the move by yourself would be cheaper, but the money soon starts to add up. When you move by yourself you'll need to consider the following:
Transportation and fuel: Not only do you need to find a vehicle large enough to accommodate the move, but you'll have to pay for fuel to get you from A to B (however many trips it takes).
Packaging materials: You may well be able to get your hands on some old cardboard boxes from friends and family but this is a lengthy process that could end in disaster – particularly if you over pack a used box that has seen better days.
The risk of damage: When you pack and shift everything by yourself, you run the risk of causing unnecessary damage. Having a professional removals company assist you on the other hand, can significantly lower your chances at damaging any of your possessions in transit.
4 – Movers insurance
Another thing to consider if you were thinking about handling the move by yourself is insurance. If anything gets damaged in transit when you are moving home by yourself will not be covered. However, if you choose a reputable Sutherland Shire removals company like Steve Lavin Removals, you have the added bonus of taking out mover's insurance. That way, in the highly unlikely event that something does get damaged in transit, you'll be completely covered.
5 – Thorough knowledge of the area
You shouldn't choose just any old removals company in Sydney. Sure, anyone can pull up GPS, however, when you work with a company who specialises in Sutherland Shire removals, you have the added benefit of someone who understands the area better than anyone else.
This might seem like a minor benefit, but since Sutherland Shire is home to Sydney's most congested roads, it certainly can't hurt!
Not only that, but taking the smoothest possible route to your new home, absent any unnecessary bumps along the way, is even more important if you are moving lots of valuable and fragile possessions.
Conclusion
And that about sums it up! Rather than waste time and money handling the moving process by yourself, instead hire the professionals with a solid reputation, plenty of experience, and a thorough knowledge of Sutherland Shire.
Leverage professional packing services
Save time and hassle
Lower your overall costs
Gain the added benefit of mover's insurance
Avoid traffic and unnecessarily dangerous roads
We hope that you have found this article helpful. Whatever you decide, we wish you the best of luck with your move and hope that you fall in love with your new home in Sutherland Shire.