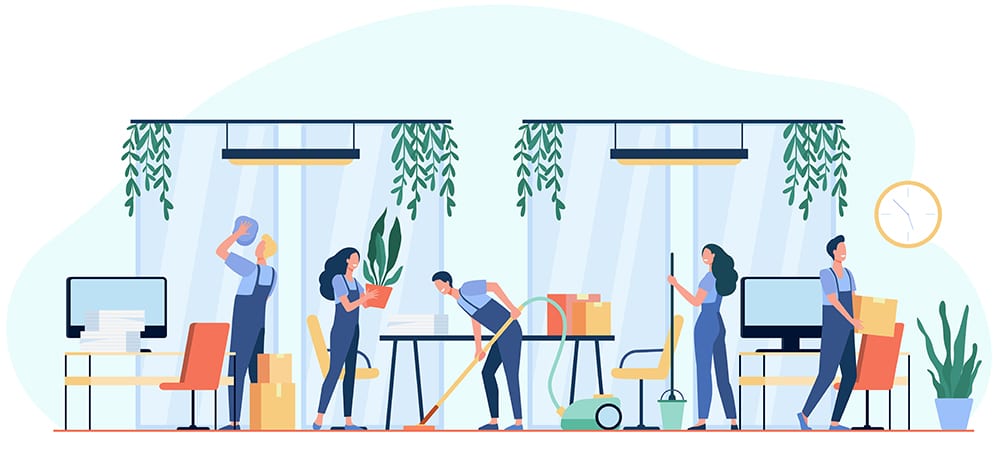 In the broadest sense, moving office occurs because of two major reasons – either rapid business expansion or change of business location. It is quite common for sensible company managers to move to cheaper locations after the business has downsized.
Some companies seek larger office space to accommodate growth in regard to numbers of staff members, more equipment or machinery, and storage space for their products.
Whichever the case, moving office is a process with a number of challenges and unforeseen risks, which is why you need to work with the best office removals company.
Moving office because of a downsize demands selecting only your best equipment and furniture due to space restrictions. Moving office for a rapidly growing business requires sorting out and disposing of old furniture.
In both cases, many business operations are likely to become to a standstill, which directly affects the business's income and profits during the event.
Secondly, there is tons of expensive office equipment that ought to remain safe. Yet, the core challenge of designing a working environment that meets a company's need still awaits.
This article will briefly explain six strategies on how to make office moving an absolutely stress-free and safe procedure. Finally, we will suggest to you a criterion you may use to identify a credible office removal company.
1. Moving fast with care
No matter the speed or distance of relocation, precious working time will be lost. This implies that a company's profits are also in jeopardy, especially if the moving process is carelessly performed.
That is why you need a trusted office removals company to organize your furniture and equipment to decrease the working time that will be lost.
If you are moving office in Sydney, there are reputable removalists whose services can help employees feel comfortable with relocating to new premises, as well as help them resume work swiftly.
2. Space planning
You can make office moving easier if you plan for the new office premise in advance. As such, you need to plan ahead for a work area that will accommodate all your appliances.
Are all the telephone and electrical connections in place? Is there enough room for file storage? Is there space for board room meetings? Are there enough infrastructures to cater to all the other operations?
The blueprint of the new office space ought to be examined closely to seal loopholes that may invite failure or dissatisfaction.
3. Charges
Before you start moving office, evaluate the cost implications carefully. If doing it on your own, make sound estimates of the total packing, loading, and transit costs. That is where professional help comes in handy.
In Sydney, there are many good removalist companies such as Cronulla Removalists, which is only a call away to save you the trauma of hiring different hands to help you pack, load, and transport your office equipment and furniture.
A good removalist company not only provides clear overall costs but will discuss all additional charges.
The last thing you need when moving office is a shocking bill on top of lost productivity time. An accredited office removalist company has insurance cover for all items in their custody.
4. Allocate enough time
Despite the possibility of losing working time, office moving demands sufficient time.
In collaboration with staff members, set enough time for each stage of the event. Mobilize co-workers to coordinate the process and be prepared for disruptions.
The transfer of IT equipment also needs ample time to set up to obtain correct cabling and infrastructure. Once set up, equipment requires time for testing. Employees also need time to prepare for relocation.
5. Hire professional help
Moving office is much more technical and difficult compared to home relocation. A professional removalist can help cut down the cost of relocation.
A great office removalist will also reduce your stress because the procedure is not as easy as it is often speculated to be.
Professional removalists have the expertise and experience of handling fragile office equipment. This will greatly eliminate the risk of mishandling and damage to precious equipment.
Conclusion
Moving office is a sensitive activity. That is why you ought to take utmost care and adequate preparations to make the process absolutely flawless.
Reputable companies give their clients feedback throughout the process of office moving. As one of the best Sydney removalist companies, they will ensure that your IT infrastructure is re-assembled efficiently as soon as possible.
They will make your new premises a better environment for growth. That is why the best office removalists company should have great concern the safety of your items. The right company will also move you to your new office as quickly as possible to avoid business interruptions.
Finally, get a company that gives you an accurate quote of all costs involved. Dishonest brokers and rogue removalists are known to inflate transit costs before the end of the operation.
Avoid last-minute disappointments and frustrations by leaving your office moving job to an honest, qualified, and accredited mover.